'The V You Don't See' - Part Two:
Don't look at Mr Murs!
Charles Thomson lifts the lid on the lesser-publicised aspects of the Virgin Media V Festival. Why does everybody have to stand still when Beyonce leaves her dressing room? And why aren't journalists allowed to look at Olly Murs?
Sun 18th Aug 2013, Yellow Advertiser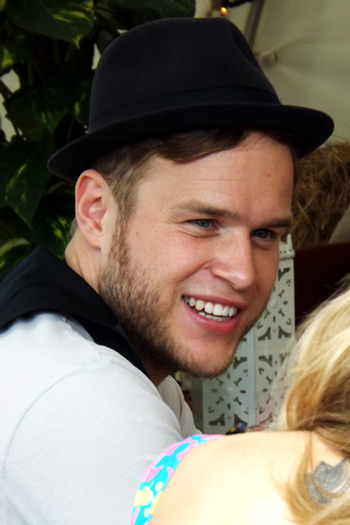 Olly Murs in V Festival Media Garden. (C) Charles Thomson
OLLY Murs has just arrived in the V Festival Media Garden; a small, fenced area where VIPs give brief, tightly-controlled interviews to assorted TV crews and, when they can be bothered, the odd newspaper or magazine.
Their spokespeople stand inches away throughout every chat to ensure their clients don't say anything remotely interesting. On a whiteboard, a press officer has written that Olly will only speak to pre-approved interviewers.

Some young fans have found their way into garden. Twelve-year-olds Finley John-Baptiste from Great Baddow and Brian Happe from Canvey Island have been collecting autographs all weekend. Among their haul so far are Tiny Tempah, The Script, The Fratellis, Connor Maynard, Eddie Izzard, Seasick Steve and Tom Odell. They say they have been excitedly awaiting Olly's arrival for more than half-an-hour.

As he bounces through the entrance, Olly gives the assorted reporters, photographers and onlookers a signature 'cheeky chappy' wave and rushes immediately to a small set a few feet away from us for an interview with MTV. He dashes straight past his smiling fans, who include Finley and Brian. We turn to watch, the kids overawed that they get to see their hero in conversation.

"It so weird," one of them says, "that he's right there."

A minder steps between the kids and their idol, informing them that Olly will only pose for pictures or sign autographs if he has time at the end of his interviews. The comment seems farcical. How long does it take to pose for four or five pictures and sign a couple of autographs? One minute?

Moments later the minder is back, accompanied by two colleagues. They stand between the kids and their pop idol. They spread their arms, to block everyone's view, and begin hectoring us.

"We're moving you away," one of them barks, physically turning me around and placing his hand on my shoulder, pushing me towards a corner. "We can't have you all looking at Olly while he's doing interviews. This is a press area. People are trying to work."
The revelation that Olly Murs can't work with people looking at him os a surprising one, given that he's come to V Festival to perform on stage in front of about 20,000 people.

"I am press," I tell the minder, sternly.

"Well, stop hanging around with the fan club, then," he retorts. "If you're media, you shouldn't be standing there with the fans, looking."

What? Why can't journalists look at Olly Murs? Why can't they talk to fans? Journalists represent the fans. We ask our questions on their behalf.

The incident is reminiscent of the craziness which surrounded Beyonce's appearance at the festival last night. At roughly 9pm security imposed a 'lockdown'.
'Lockdown', it transpires, means nobody in the backstage area is allowed to move. Literally. Nobody can walk anywhere. Everyone has to stand still, wherever they are, like a children's game, until 'lockdown' comes to an end.

What 'lockdown' means, I later learn, is that Beyonce wants to drive from her dressing room to the back of the main stage. Until she has completed her journey, nobody may move - even in an area several miles' walk from Beyonce's location. Heaven forbid anybody should ask her for an autograph en route.

Other crazy demands across the festival have included Jessie J forcing professional photographers to sign release forms, forfeiting their right to profit from their own work, and Beyonce being the only act in the entire two-day line-up to ban photographers from taking pictures in front of the stage.

Being told I'm not allowed to look at Olly Murs is the final straw. Moments after being manhandled by his minder and told off for talking to normal people, I leave the Media Garden. I shan't be returning.

Being backstage at a music festival is many people's idea of heaven. They imagine glitz and glamour; being able to hobnob with their favourite stars. In fact, it is a distinctly unglamorous environment.
The celebs are cosseted – you perhaps have more chance of getting near them as a fan inside the arena than you do backstage. They are spirited from one place to the next, their people doing everything in their power to prevent them from being accosted by the riff-raff. Even if you do get close - as Finley and Brian sadly learned - the experience can be distinctly underwhelming.

The old saying is that you should never meet your celebrity heroes, because it is too often a disappointment. I can't claim Olly Murs or Beyonce as heroes, but for many who attend V Festival, that's exactly what they are.

It is difficult to know whether their apparent diva demands are their own work or that of their entourages. Either way, they are incredibly unattractive.
NB. Finley's mother contacted Charles after this article was published, to inform him that Olly Murs refused to sign autographs for the youngsters - who had by that point waited for him for 30 minutes - before he left the Media Garden.