Up Before The Beak: Ex-Cop Kinkaid Guilty of Smuggling £300,000 Drugs Haul Inside Frozen Chickens
Mon 26th Oct 2015, Yellow Advertiser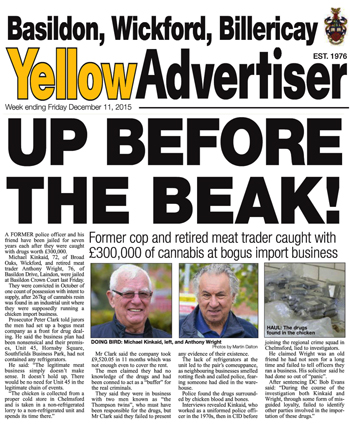 AN EX-COP is facing prison after he was caught with a haul of drugs smuggled inside a shipment of frozen chicken.

Jurors unanimously convicted Michael Kinkaid, 72, of Blind Lane, Billericay, and his friend Anthony Wright, 76, a former meat trader also of Blind Lane, on Monday.

They were jointly charged with a single count of possession with intent to supply, after 267 kilograms of cannabis resin – with a wholesale value of roughly £300,000 – was found in an industrial unit where the men were supposedly running a chicken import business.

A trial at Basildon Crown Court last week heard forensic tests had proved the drugs found at the business premises - Unit 45, Hornsby Square, Southfields Business Park – were transported inside a consignment of chicken.

The defendants claimed they had no knowledge of the drugs and their lawyers claimed they had been conned, to act as a 'buffer' for the real criminals.

The duo claimed they had been in business with two men known as 'the Thompson twins', who must have been responsible, but prosecutor Peter Clark said they had failed to present any evidence of the men's existence.

Mr Clark said the pair had used a bogus meat company as a front for drug-dealing.

Dismissing their claim that the business was legitimate, he told jurors that Unit 45, where the duo stored their produce, had not even contained any refrigerators.

He said: "The legitimate meat business simply doesn't make sense. It doesn't hold up. There would be no need for Unit 45 in the legitimate chain of events. The chicken is collected from a proper cold store in Chelmsford and is taken in a non-refrigerated lorry to a non-refrigerated unit and spends its time there."

Mr Clark said the company had taken a total of £9,520.05 in 11 months - "not enough even to cover the rent."

He continued: "That was a business model that made no sense at all, and Mr Wright was an experienced businessman. How was it ever going to come good? How was the chicken going to suddenly become saleable?"

But defence barrister Michael Gomulka, representing Kinkaid, said the pair had simply embarked on a 'foolish' business venture.

He said: "This is the tale of two old men trying to rebuild and relive past glories. The Expendables of Basildon... Just because it would have been thrown out of Dragons' Den in a few minutes, doesn't mean he is guilty of being a very serious drug dealer. Hoping foolishly is not a crime."

The court heard police discovered the drugs when a neighbouring business smelled 'rotting flesh' and feared somebody had died inside the unit.

An officer experienced with dead bodies agreed that the smell was of rotting flesh and, with a colleague, entered the premises. Inside they found the cannabis resin amongst chicken blood and bones.

Wright was in Spain at the time and Kinkaid claimed he had not visited the unit for several days.

Although multiple persons' fingerprints were found on the drugs, none matched either of the defendants or anybody else in the police's national database.

Defence lawyers said police had failed to show jurors any evidence that either defendant had been in contact with anybody else in a drugs supply chain and, despite possessing cell-site analysis of their mobile phone use, had been unable to show jurors any evidence the pair were in the vicinity of the warehouse in the days before the drugs were discovered.

Mr Clark said the prosecution did not contend that the men were involved in drug trafficking – only in possession with intent to supply.

Police interviews entered into evidence showed Kinkaid – who worked as a police officer in the 1970s as a uniformed officer before joining CID and then the regional crime squad in Chelmsford – had lied to investigators.

He claimed he had not seen Wright for a long time and did not tell officers they ran a business together.

However, his lawyer said he had done so out of 'panic' and that his lies showed he was not capable of being an organised criminal.

He said: "These were not the carefully-crafted lies of the cunning ex-officer."

However, after roughly nine hours' deliberations, jurors returned two guilty verdicts.

The pair will be sentenced on November 24.

NB: Wright and Kinkaid were each sentenced to seven years in prison.