Michael Jackson
Charles Thomson's knowledge of Michael Jackson is such that the star's brother Jermaine once exclaimed, "He knows more than I do!"
Charles is regarded as one of the world's leading authorities on Michael Jackson. He has written about the star for numerous publications, contributed to two best-selling biographies and been referenced in several others. His work has been praised by Jackson's family, friends and colleagues.
His intricately researched features on particular chapters in Jackson's life, from the recording of his last music video to his devastating 2005 trial, have led to a string of interviews for television and radio stations across Europe and America.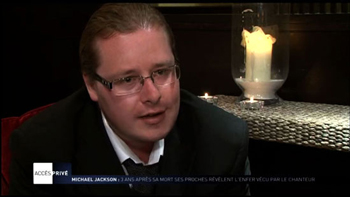 At just 20 years old Charles began using his network of insider sources to provide Michael Jackson scoops to one of the UK's biggest newspapers, The Sun. He was the only journalist to be tipped off by the star's team that he was about to descend on the UK in 2009 to announce his now infamous 'This Is It' comeback concerts. Using Charles' information, The Sun was able to snap exclusive pictures of Jackson disembarking his private jet at a secluded airstrip in Luton.
Two days later Charles was invited to attend Jackson's press conference at the O2, which would become the star's last ever appearance before an audience. Charles was also present at Jackson's last public performance, when he appeared at the World Music Awards in London in November 2006.
In the months after the press conference Charles continued to work for The Sun as a Jackson expert. During this time he provided tip-offs and sourced pictures, generating many exclusive stories.
On the night of Michael Jackson's death, Charles was interviewed live on air by Sky News, BBC News 24 and BBC World Service.
In the weeks and months after Jackson's sudden death Charles continued to work for The Sun, providing stories, pictures and background information. His work included facilitating an interview with Jackson's former manager Dieter Wiesner and investigating the star's final rehearsals.
Most notably, Charles instigated a Sun investigation which proved that old demo vocals had been passed off as live vocals in the concert film 'This Is It'. The story cast doubt on organisers' claims that they had no idea Jackson was unwell or using drugs in the lead-up to his death.
Emails leaked years later, after the notorious 'Sony hack' showed the story had set off a panic at the media corporation when bigwigs realised it was true and they could not honestly deny it. Meanwhile, it was not until the concert organisers were hauled before a public court years after the initial Sun story that the rest of the media would report the truth about the Jackson's health in rehearsals.
It is this willingness to challenge prevailing media narratives about Jackson which have led him to become internationally known for his coverage of the 'King of Pop'. He has consistently challenged what he has described as 'shameful' media coverage of the embattled star. One of the youngest writers ever to be given his own Huffington Post blog, his first two pieces dealt with shoddy reporting on Michael Jackson, using the star's coverage to demonstrate wider journalistic failings.
In a June 2010 article for the Huffington Post, titled 'One of the Most Shameful Episodes in Journalistic History', Charles revisited the official transcripts of Jackson's trial, then delved into TV and newspaper archives to compare their reportage to the testimony. The result was a scathing attack on the media's shambolic coverage of Jackson's trial, which was heralded by several key figures in the case.
The piece was acclaimed by Jackson's trial lawyers Thomas Mesereau and Susan Yu, who continue to refer journalists and authors with trial queries to Charles' Huffington Post blog. The article has been quoted in two highly publicised Jackson biographies - Joe Vogel's 'Man In The Music' and Randall Sullivan's 'Untouchable: The Strange Life And Tragic Death of Michael Jackson'. Fellow Jackson biographers Aphrodite Jones and J Randy Taraborrelli - who both attended the trial - have also praised the article.
The piece also brought Charles to the attention of Jackson's friends and family. A year later, when Jermaine Jackson flew to London to promote his autobiography, he asked for a private meeting with Charles ahead of a book signing and granted him an interview two days later. When the surviving members of the Jackson 5 reunited 18 months later to play their first London concert in almost 40 years, Jermaine gave Charles his only solo interview promoting the gig and invited him backstage as a VIP guest to meet his brothers.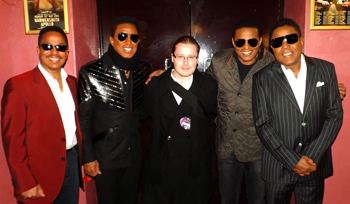 Charles has conducted extensive interviews with numerous other key figures in Jackson's life. They include his brother Tito, music director Michael Prince, managers Raymone Bain and Dieter Wiesner, personal photographer Harrison Funk, tour guitarist Jennifer Batten, This Is It dancer Kriyss Grant, costume designer Michael Bush, publicist Stuart Backerman and the defence private investigator in Jackson's trial, Scott Ross.
Charles has also contributed to two best-selling Michael Jackson biographies.
In July 2009 Charles was approached by Headline Publishing to contribute to the book 'Michael Jackson - Life of a Legend'. Charles provided a half-page article on Jackson's fame and influence, focusing on how the star had helped to shape his own career as a music journalist. The book topped the UK chart for three consecutive weeks and became an instant international bestseller.
In early 2010 Charles was contacted by internationally renowned biographer J Randy Taraborrelli, who asked to quote the young writer's coverage of Jackson's FBI files, commenting that nobody had reported on the documents' contents more eloquently. He also asked Charles to write additional contributions about the FBI files and about his experience attending Jackson's final press conference at the O2 Arena. The contributions were featured in the Summer 2010 re-issue of 'The Magic, The Madness, The Whole Story'.
Charles's extensive written work on Michael Jackson has led to TV and radio appearances in Europe and America, including an appearance on Sky News in the midst of Dr Conrad Murray's trial and an interview about the aftermath of the trial on French TV station M6.